Three Minutes With: 2012-13 CHL leading scorer Brendan Leipsic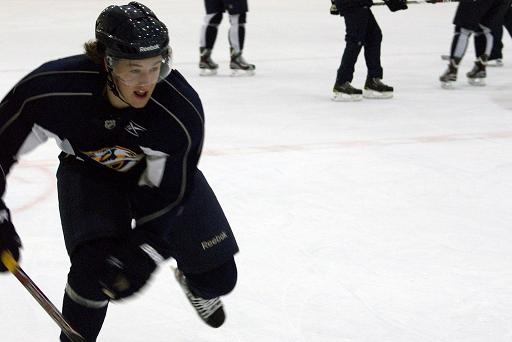 Every year during Development Camp, we pick Nashville Predators prospects, players, coaches and personalities to be a part of our Three Minutes With… interview series. The summer of 2013 is no different and we're bringing you a great lineup this year.
In today's edition, we sit down with Portland Winterhawks forward, Hockey Canada's national junior team development camp invite and Predators prospect Brendan Leipsic. After becoming Nashville's third round pick in 2012 (89th overall), Leipsic returned to Portland only to blow up offensively. His 120 points in just 68 games not only led his team and his league but also all of Canadian Major Junior (his linemate Nic Petan also had 120 points but played three more games). We asked the 19-year old Winnipeg, Manitoba, native what it was like to play in the Memorial Cup, having his Winterhawks teammates drafted and hoisting the Ed Chynoweth Cup at their championship parade in Portland.
***
section303.com: A lot of success for you last year, both personally and team-wise. What was it like being a part of that magical run through the WHL regular season, playoffs and Memorial Cup?
Brendan Leipsic: The last three years I've been fortunate to be on a team like Portland where we've made deep runs every year. You kind of get a taste of what the grind of the pro game is going to be like. I mean, it compares a little bit but, obviously, it's a whole new animal in the pros. It was a good experience. Some of the adversity we had to face, you know, down 3-0 after the first period to Halifax (in the Memorial Cup Final) and climbing back into it and getting within a goal. Obviously, our team had a lot of success and, if your team's playing well that brings personal success too so it was a good year all around.
303: What did it feel like to finally hoist that Ed Chynoweth Cup after two straight years losing in the Final?
BL: Yeah, it was awesome. The two previous years thing didn't really go our way. Couple times in our barn, we saw them hoist it and, when we beat Edmonton (this year) we got a little bit of payback, I guess you could say. But it was definitely a cool feeling. It's a time my teammates and I will never forget.
303: You've been drafted by an NHL team, you're development is going well, you've dreamed your whole life to play in the NHL, etc. Is it hard, when you're in junior, not to look ahead?
BL: Obviously, everybody has dreams of playing in the National Hockey League and we're kind of getting a taste of it right now (in camp) what it takes to be a pro. But I think you've just got to take it game-by-game and year-by-year and focus everyday on getting better. Hopefully, you know, in a few years this is the final spot. Hopefully I'll get here one day.
303: Your teammates Nic Petan and Olivier Bjorkstrand were both drafted a couple weeks ago. Were you friends with them off the ice? What was it like to see those guys get drafted?
BL: Yeah, me and Nic and Oliver were all pretty good buddies. We had a pretty close team this year so everybody got along really well with each other. But me and Nic had just kind of average seasons a year ago but we kind of broke out together and, I think from day one, we just kind of clicked. We're all good buddies off the ice so, I think, that leads to good chemistry on the ice as well.
303: Did you text him congrats or…?
BL: Oh yeah, absolutely. Nic got drafted to Winnipeg, my hometown, so that's obviously pretty exciting. I'm good buddies with Mack Heisinger and I know the Heisinger family who's the Assistant GM of the Jets there so, you know, it's exciting for him. I just kind of told him what it's all about. I always brag about how great the city of Winnipeg is so now he'll finally get a taste of it.
303: And your brother, Jeremey, will go to Portland next year, right?
BL: Yep. He'll go to training camp next year. He wasn't drafted but they put him on the protected list so we'll see how he does in camp. Maybe next year or the year after.
303: What do you plan on getting out of this camp to take you forward? I mean, this isn't your first time here so you're probably not overwhelmed by the experience.
BL: It's a measuring stick, really. Everybody's getting to know each other but, obviously, you're looking to the guy next to you who plays your position and you kind of want to beat him out in the future. It's a measuring stick of where you want to go and you're just trying to work harder than the next guy. And we've got a new development guy, Scott Nichol, so just trying to take pieces from him too.
303: Appreciate it.
BL: No problem.
—
PHOTO CREDIT: Sarah Fuqua (used with permission)