Three Minutes With (Preds prospect edition): Vic Bartley…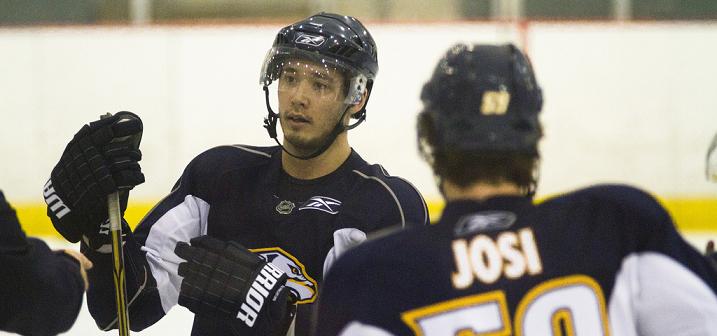 He's played for five teams in the past three years. At every level from Canadian Major Junior to the ECHL to the AHL to overseas. He was the captain of the WHL's Regina Pats but was never drafted. But 21-year old defenseman Vic Bartley will finally have a shot at the NHL through the Nashville Predators.
During Rookie Development Camp, Bartley sat down with section303.com and talked about his path to this point in his career, the deal he signed to play in the Swedish Elite League but then walked away from to play hockey back home in North America and, of course, the emotion he experienced while signing his deal with the Predators.
section303.com: Talk a little bit about your experience being the captain of your Regina team and then going over to Europe to play.
Vic Bartley: Oh yeah, it was definitely a big change overall. I think the biggest thing was the whole lifestyle there and how they play hockey, especially how they prepare over there. They practice a lot more so there's a lot more off-ice training and, uh, when you play a lot less games you're a lot more fresh and my goal was to always come back to North America. I've always wanted to play this game and I've always wanted to play in the NHL so, when we come back here (for training camp) I'm gonna have to get myself in a little better shape so I can last all 80-some games this year. Hopefully I'll come to camp in top shape and show that I have a chance to be here.
303: What has the sudden jump been like? I mean, you signed a two year deal in Sweden and then, a month later, you signed your deal with the Preds. What was that sudden change of direction like?
VB: Oh, you know what, it was really unexpected. I'm very very excited. My goal was to always come back here but I didn't think I had a chance (so soon) after last year but then I got a call from Nashville saying they were interested. I pounced on it right away, I didn't even hesitate for a second. So uh, you know… it's always been a dream of mine to sign an NHL contract and I was fortunate enough, after a lot of hard work, that it finally came true this summer.
303: How did you find out Nashville was interested?
VB: You know, it was late in Sweden. They had called me and gave me a little info and said they were interested but nothing yet. So then about a month and a half went by and I got a call in, I think late May or early June, and they had mentioned they were interested. We kinda weighed the options and within a couple days we had an answer and that was that. I could not have been more excited.
303: What is it like to be a part of an organization like this where they're known for pumping out solid NHL defensemen at every turn?
VB: Oh it's what I've lived for my whole life. You know, that was the main reason we chose Nashville. They have a great track record of producing late bloomers and giving players second chances here and that's all I was looking for. All I was looking for was an opportunity to play hockey and I'm just so fortunate that I have a chance to play in Nashville with a great coaching staff and how they develop their players.
303: Obviously you grew up playing the North American game but then you went to Sweden where the rink size is bigger. How do you have to do to adjust your game back to the smaller rink and North American style?
VB: Just playing simple overall. Over there there's not many dumped pucks, you're not chipping the puck very much, over there there's always plays being made. So, when I come back here, I need to realize that "you know what? Play a simple game. That's how you're successful."
**Goaltender Magnus Hellberg, who sits a few stalls down from Bartley, throws a tape ball at Bartley's face while he's answering the question.**
VB: "That's how you're helping your teammates." If I play a simpler game, I should be okay.
303: And finally… what's it like dealing with Magnus over here on a daily basis?
VB: *laughs* Oh he's a great guy. I just love that guy!
303: *laughs* Alright thanks man.
VB: No problem.
—
HEADLINE PHOTO CREDIT: Rachel Addison // Rachel Addison Photography (used with permission)
INSET PHOTO CREDIT: Olof Erikzon // Rogle BK (used with permission)