Three Minutes With (Preds prospects edition): Magnus Hellberg…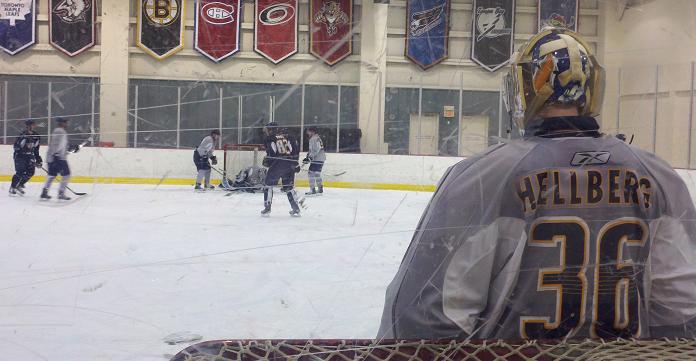 Magnus Hellberg my have physically been in the Xcel Energy Center but, when his name was called, his mind hardly was. Hellberg was the first goaltender taken in the 2011 NHL Entry Draft and, because he wasn't one of the top ranked goalies, he was expecting other names to go first. But, much to his surprise, when Nashville Predators Assistant General Manager Paul Fenton took the mic at their draft table, he spoke Hellberg's name instead.
We sat down with the big Swede during Nashville's Rookie Development Camp this summer and  he told us all about the moment he was drafted, the whirlwind of the past year and how he broke the news to his parents about his being drafted.
section303.com: You were in Minneapolis getting drafted just a week ago, and now you're here at Development Camp already. What's this whirlwind been like for you?
Magnus Hellberg: Well, you know, my last year has gone really fast. That's when it all started. I took the next step to senior hockey and it went pretty good I guess. I went to the draft — wasn't even sure if I was supposed to go to the draft because I didn't know how high or how low I would get drafted. But then me and my agent decided to go like three days before the draft and we just booked the flight and got there. I don't regret it now. It was an awesome feeling to get drafted. I'm excited to be here and meet the guys in the organization and just hang out with them and meet new friends.
303: Did you get to meet with your fellow second round pick at all? Did you and Miikka Salomaki talk at all or travel together?
MH: Yeah, we met each other after we got picked. We were in Nashville's lounge and we talked some there. And then we took the flight here together and we stayed the first night in the hotel together so I've got to know him now. He's a nice guy. He's humble and everything so it's nice to know him.
303: You told us at the Draft that you'd never been to Nashville before and didn't know much about the city. Have you had a chance to do anything here other than practice and work out?
MH: We went downtown for a bit and just looked around and saw the arena and went to Green Hills Mall, I guess, looked at some stores the first day, me and Miikka Salomaki. You know, everybody's so nice here and so open. And everybody in the crowd here (at practice) is just says like "welcome to Nashville" and "it's good to have you here." and that's the kind of thing you appreciate.
303: Did it surprise you at all when you were the first goalie taken in the draft?
MH: Yeah I was pretty surprising. Yeah it was cause there were some goalies ranked above me. Like John Gibson, he was supposed to go in the first (round) so when I got picked as the first goalie it was awesome.
303: Were you even paying attention?
MH: No, not really. *laughs* You know, when I got drafted I thought they would say my new team, Frölunda. But they said my old one, Almtuna. So I didn't connect at the beginning. But then I was like "Hey! That's me!" *laughs* Then I got really nervous and I went down to the table and got the shirt — or, the jersey. It was cool.
303: You said you almost didn't come to the draft. But now that you were the first goalie taken, do you regret that your family wasn't there with you for the moment?
MH: You know, it's hard to be (regretful) afterwise. Of course I wanted to share the moment with them but they're really happy for me and I'll be with them when I get back to Sweden so… but of course I wanted them there.
303: Were you the one who broke the news to them or…?
MH: Yeah. I just wrote to my dad a text like "second round, first goalie, Nashville." He's like "That's awesome. Good for  you." Like "I'm happy for you." So, you know, I'm so grateful for my parents. I wanted them to be there because, you know, without them I'm not gonna be here so they are the ones I should thank.
303: Thanks Magnus.
MH: Oh no problem. It's tough to talk (in English) to you guys after practice cause I'm so tired.
303: Well you speak great English man, it's cool.
MH: Awesome. Thanks.
—
PHOTO CREDIT: Jeremy K. Gover // section303.com