Three Minutes With: Tyler Sloan (part one)…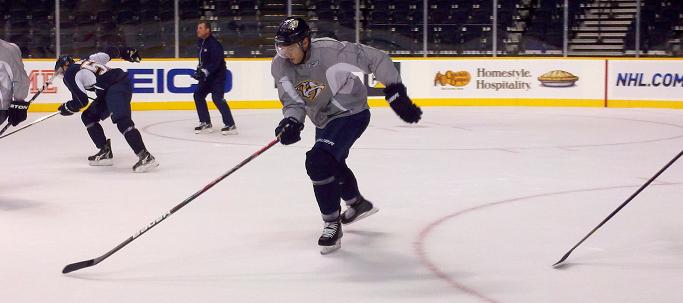 We bring back our "Three Minutes With" feature for the 2011-12 season with a special (and probably one-of-a-kind) two-parter! Former Washington Capitals defenseman Tyler Sloan spent a solid six minutes with us after practice recently. In this first half of the interview, he talked with section303.com about why he wears the number #89 (yes, I was selfishly trying to get an Alexander Mogilny reference out of him), who his favorite players were growing up in his native Calgary, Alberta and a forbidden jersey he used to wear while playing hockey.
(psst…. he talks about Shane O'Brien as well as his old Caps teammates in tomorrow's portion!)
section303.com: We'll start with a personal question… why do you wear #89?
Tyler Sloan: You know what? It got given to me the first time I got to Washington's camp. I think the numbers I wanted were unavailable so I just kept it. You can tell Terry Crisp that it's from the 1989 Calgary Flames' Stanley Cup though… I'm from Calgary so we'll tell him that. *laughs* But no it was just a training camp number.
303: Can you name other players who have worn the #89?
TS: I think Sam Gagne wears it…. Mogilny wore it, right? I'm trying to think of somebody else. I'll have to research that a little bit.
303: Who were some of your favorite players growing up?
TS: Well, I mean (Wayne) Gretzky was always one. But, growing up in Calgary, Doug Gilmour was always one. I was always a huge fan of Gary Roberts so I always liked the #10, that would've been something I wore in Las Vegas (with the ECHL's Wranglers) years ago. I ended up working at this hockey school, being in Calgary, and meeting him and, you know, he's a great guy. Those players I would say. Oh, and I still have the Pavel Bure jersey that I grew up with also. The #10.
303: Were you allowed to wear that Bure jersey in Calgary?
TS: Oh no… I just wore it in street hockey. *laughs*
303: Growing up in Calgary, I assume you were a Flames fan. Is it weird that you grew up watching Gary Suter play for your team and now you're playing with his nephew, Ryan Suter?
TS: I hadn't thought about it too much actually. Coming from Washington, there four or five guys that were from Calgary. Here there's a couple from out west but not Calgary. I talked to Martin Gelinas a little bit and he played in Calgary so…
In tomorrow's portion of the interview, Sloan compares the Washington Capitals and Nashville Predators organizations, his style of play and his personal expectations for this coming season. He's a great quote. You don't want to miss it.
—
PHOTO CREDIT: Jeremy K. Gover // section303.com