Three Minutes With: Tyler Sloan (part two)…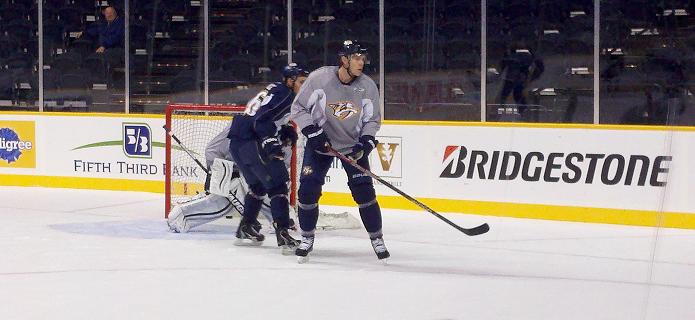 Today, we continue our conversation with Nashville Predators blueliner Tyler Sloan. He signed as a free agent with the Preds this summer in hopes of cracking the lineup. The undrafted defenseman has spent time in numerous hockey sweaters. Since turning pro, among those in his closet are the Dayton Bombers and the Las Vegas Wranglers of the ECHL, the Syracuse Crunch, the Manitoba Moose and the Hershey Bears of the AHL as well as the Washington Capitals of the NHL.
In this second half of his interview with section303.com, Sloan compares the Capitals and Predators organizations, his personal expectations for the 2011-12 season and his style of play.
If you missed the first three minutes of the interview yesterday, CLICK HERE.
303: I know you've only been here a week or so but how does what you've seen so far here in Nashville compare with the Caps system and the way they conduct themselves?
TS: Well, Bruce (Boudreau) was a pretty aggressive coach. His systems were very aggressive. We obviously ended up having to change that as we had some troubles the last couple years. But there are parts of the systems (here) that were very similar and I think work really well with my game. Being very aggressive, pinching along the walls. Skating is one of my stronger suits I think so I like the high-tempo, jumping into the play, being active, I like that type of game. I see a lot of similarities with Washington but I don't know what they're doing this year.
303: This team is known for a hard work ethic, never taking a shift off, that kind of thing. I'm certainly not suggesting that Washington doesn't do those things but can you kind of compare the two?
TS: Yeah, you know, I think they're very different make-ups. Washington has a lot of players like "Ovi," "Backie" and "Green" (Alexander Ovechkin, Nicklas Backstrom and Mike Green) and those guys who have a lot of skill but work ethic is something that Bruce always stressed and everybody tried to work on that. (In Nashville) everybody is held accountable, everybody buys in, everybody plays both ends of the ice. Practice is a great tempo and everybody's working hard. I think here they make it happen. Work ethic is really driven in. There, I think they're working on that.
303: What are your personal goals for the 2011-12 season? Everyone wants to win, so not team-wise. What are your personal goals for the year?
TS: Well, obviously, make the team. *laughs* Just crack that top six and try to play regularly. The last two years have been frustrating. I like to be a plus guy, plus/minus-wise. I don't like to get scored on. I'd like to contribute a little bit more. Get up in the play and join the rush. Yeah, and just play consistently and try to make the lineup every night.
303: The way the league is set up, a lot of Western Conference fans don't watch the Eastern Conference and vice-versa. For those who don't know, can you describe your game a little bit?
TS: Yeah, um… I think I'm a good skating defenseman. I wouldn't say I'm offensive but I like to get up in the play, have good pinches, good first pass, play simple, and I like to play physical. When the opportunity comes up I just try to make it hard on the opposing team. I'll play a little dirty, if I have to sometimes. I would say that's probably my game.
303: And finally, you mentioned playing physical. Obviously not with Shea Weber and Ryan Suter but, after that, this team has a real need for a physical defenseman right now. They lost Shane O'Brien in the off-season to Colorado and, after that, Francis Bouillon had a set back in his concussion recovery. Do you feel like you could step up and fill that void?
TS: Yeah, I think size-wise and with my skating I have the ability to do that. I'm not going to be fighting every night, that's for sure. It's not really part of my game but being physical, being tough, winning battles and making it hard on the other team, I think I can do that.
303: Thanks.
TS: No problem. Good to meet you.
—
PHOTO CREDIT: Jeremy K. Gover // section303.com