What will the Predators be paying Shea Weber next season?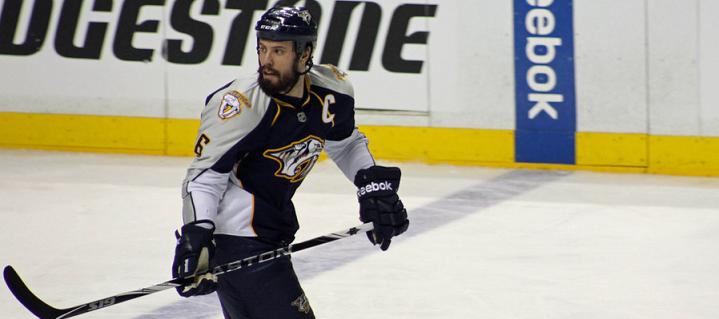 What does Shea Weber mean to the Nashville Predators? Well, let's see, he's the team captain. He's good for 50 points a year. He's a Norris Trophy finalist. He's a future Norris Trophy winner. He's the all-time goals leader among defensemen in franchise history. He's the first marketable superstar the Predators have ever had. He's the first home-grown captain in team history. Heck, he was even specifically chosen by all-time, all-world defenseman Nicklas Lidstrom to be his defensive partner at the 2011 NHL All-Star Game.
Oh yeah, and his shot is so hard it breaks nets.
Now that's a resume.
Thanks to the Preds filing for arbitration back in June, Weber will be in uniform next season, so that's not the question at hand. The question, rather, is what will it cost for him to be in uniform this season? Or next season? Or beyond?
It's believed that Los Angeles Kings defenseman Drew Doughty is the most comparable to Weber but, since Doughty hasn't signed yet either, let's go ahead look around the league at other defensemen who would be "comparables," shall we?
BRENT BURNS
TEAM: San Jose Sharks
AGE: 26
2010-11 STATS: 46 points (17-29)
If you're trying to find a comparable player this is about as close as you're going to get. Both men were born in the same year. They were both taken in the same draft (Burns a first round pick while Weber was a second rounder). Both men are 6'5″ and both men are right handed shots. And what about stats? Weber had 16 goals last year, Burns had 17. Assists? Weber had 32, Burns had 29. Power play goals? Weber had six, Burns had eight. They each even had three game winners.
Oh yeah, and both men grow a mean beard.
The problem for the Predators is Burns signed his current deal three years ago. And, any GM (and agent) will tell you, each year is a new year. The Barrie, Ontario native will pull down a nice, cool $4 million this season, with his annual cap hit being $3.5 million. Weber's most recently signed contract? The same summer. So as much as the Preds will try to use Burns as a gauge, he's not one because of when he signed his contract.
Which brings us to the next guy….. unfortunately.
UPDATE (Aug 1, 10:28am): Per San Jose Mercury News beat writer David Pollak, the Sharks have signed Burns to a five-year extension, paying him $28.8 million. That means Burns has a cap hit of $5.75 million annually.
JAMES WISNIEWSKI
TEAM: Columbus Blue Jackets
AGE: 27
2010-11 STATS: 51 points (10-41)
This one may have hurt Nashville the most. Did Preds fans enjoy seeing the constant mayor of the Central Division cellar overpay for Wisniewski? Absolutely. But did their heart skip a beat seconds later when they realized what that meant for Weber? Absolutely, squared.
Make no mistake: Wisniewski, had a good year, amassing 51 points between two teams last season. But, other than that, a six-year, $33 million deal is beyond absurd for a guy who had never scored more than 30 points in a season coming into last year and for a guy who saw some AHL ice as recently as 2008-09. Bottom line? When he took pen to paper and signed this deal, Weber's camp saw dollar signs and made one of those old school cartoon "cha-ching" sounds.
It is believed that Weber wants a three-year contract. So, using that span of time, Wisniewski will average $6.7 million ($7 million a year in 2011-12 and 2012-13 and then $6 million in 2013-14). Weber is certainly worth more than "one hit wonder Wisniewski" which means the Preds are going to have to shell out more than $7 million per season for their team captain if they use him as a gauge.
BRENT SEABROOK
TEAM: Chicago Blackhawks
AGE: 26
2010-11 STATS: 48 points (9-39)
You're David Poile and you want the best argument between Burns and Wisniewski? Fine. We present to you Brent Seabrook.
Seabrook, 26, has been a staple on the Chicago blueline since 2005, he's a former first round pick (2003) and, while he doesn't put up quite the same numbers as the Nashville captain, he just signed his current contract this year. That current contract, by the way, is a five-year deal worth $29 million. If you're keeping track at home, that's a cap hit of $5.8 million.
Surely Weber is worth more than $5.8 million a year though. After all, Seabrook has never been nominated for the Norris Trophy (as Weber has). Furthermore, Seabrook has the reputation of being a benefactor of playing with his defensive partner Keith as well as a highly offensive Chicago club. Weber, by comparison, most certainly does not.
DUNCAN KEITH
TEAM: Chicago Blackhawks
AGE: 28
2010-11 STATS: 45 points (7-38)
Honestly? Seabrook is more of a comparable for Ryan Suter than he is for Weber. Seabrook plays first lieutenant to Duncan Keith in the Blackhawks defense corps and, because of that, Keith gets all of the Norris Trophy consideration, even having won one in 2010. Essentially, Seabrook plays under Keith's shadow — like Suter does under Weber's — and he gets paid at a slightly discounted rate because of it. Now you may notice that Keith has a cap hit that's actually less than Seabrook's but that's because Keith's is a 13-year mega deal. In the first three years of it, he's actually making $8 million per.
Which brings us to Weber.
If Keith is worth $8 million a year to a large-market Chicago team, than certainly Weber is worth a comparable amount to a cash-concious small market team. Keith signed on for that long because the Blackhawks had the weapons in place to be a contender for years to come. With names like Patrick Kane, Jonathan Toews and Patrick Sharp what's not to like about your chances year-in and year-out? Weber doesn't have names like that. Nashville has to pinch pennies and duct tape a roster together in order to become a contender every season. And that's why Weber controls all of the leverage.
Which, unfortunately for the Predators, drives the price up.
—
HONORABLE MENTIONS: Ryan Whitney (28 years old, $4m cap hit); Alex Edler (25, $3.25m); Keith Yandle (24, $5.25m)
—
PHOTO CREDIT: Shauna Legan // special to section303.com (used with permission)