What the Experts Say: Teemu Kivihalme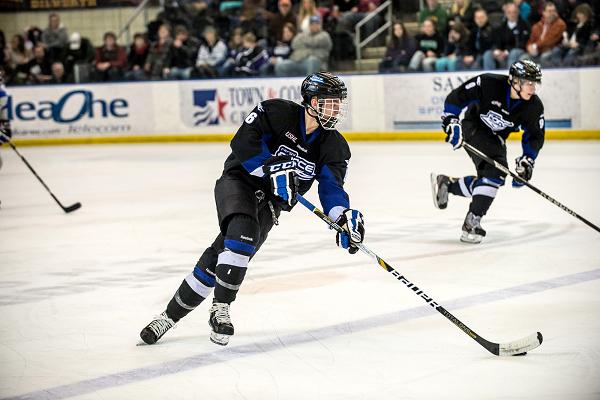 All of our draft coverage is presented by Copeland Wealth Management. They help build and maintain wealth through a combination of customized direct investment strategies, trusted relationships and comprehensive financial planning. By helping you reach your financial goals, they reach their most important goal: becoming your trusted advisor.
***
The Nashville Predators used their sixth pick, 140th overall (fifth round), to pick defenseman Teemu Kivihalme.
THE BASICS
Team: Fargo Force (USHL) / Burnsville High School (Minnesota)
Position: defense
Age: 18
Height: 6'0″
Weight: 160
RANKINGS
NHL Central Scouting: 64
McKeen's: "honorable mention" (below 120)
HockeyProspect.com: 78
Hockey Prospectus: 103
WHAT THE EXPERTS SAY
Red Line Report: "Minny high schooler is slightly built, but plays like the son of a coach (which he is) and has fine skating and puck skills from the back end."
McKeen's: "Associated Press All-State second team… the Savage, Minnesota native has dual citizenship – his father, Janne Kivihalme, born in Finland and the coach at Burnsville… will attend Colorado College… struggled to duplicate his game, however, against higher competition – notably in the finals against Edina – and at last fall's Ivan Hlinka Memorial as a member of Team USA… savvy puck-possession blueliner… able to manufacture offense with precision passing and sharp attacking instincts… clever stickhandler – thanks to soft hands that also aid him in being a good playmaker.'"
HockeyProspect.com: "Teemu's game revolves around excellent skating, which he uses to maneuver swiftly around the ice with and without the puck. He's a smooth stickhandler with excellent offensive upside, able to rush the puck end-to-end with poise. He excels at running an offense from the point, especially on the powerplay, where he uses quick footwork and good puck skills to make plays. He frequently looks to jump into the attack and is responsible about dropping back when he should."
Chris Dilks (Western College Hockey): "He's an incredibly smooth, graceful skater, that moves laterally very well, with decent top end speed. The other asset that made him a bit of a darling with NHL Central Scouting this year is that he plays the type of European-style puck-possession game that is becoming more and more popular in the NHL. And while he's still prone to the occasional mental mistakes of youth, he generally seems to have a pretty good sense and understanding of the game, and sees the ice well."
TWITTER
@tkivi_26
—
PHOTO CREDIT: mJoy Photography // USHL (used with permission)