What the Experts Say: Félix Girard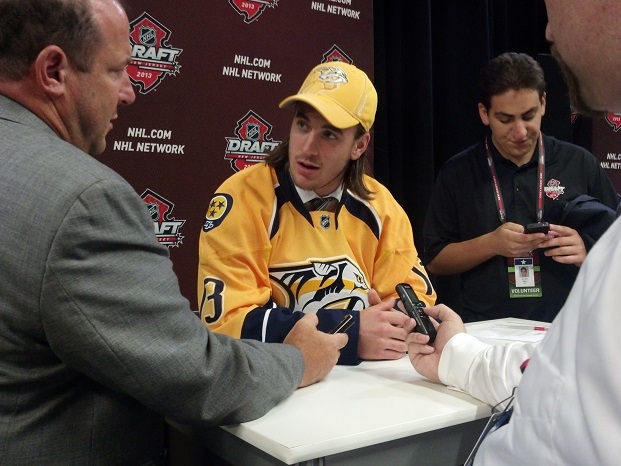 All of our draft coverage is presented by Copeland Wealth Management. They help build and maintain wealth through a combination of customized direct investment strategies, trusted relationships and comprehensive financial planning. By helping you reach your financial goals, they reach their most important goal: becoming your trusted advisor.
***
The Nashville Predators used their third pick, 95th overall (fourth round), to pick center Félix Girard.
THE BASICS
Team: Baie-Comeau Drakkar (QMJHL)
Position: center
Age: 19
Height: 5'11"
Weight: 190
RANKINGS
unranked in most publications due to being draft-eligible in 2012 (went undrafted).
WHAT THE EXPERTS SAY
Rick Springhetti (McKeen's): "Girard is an undersized forward who plays with a ton of heart and courage. His work ethic is great and he's very hard on the forecheck and penalty kill. His skating is ok but he actually seems very quick as he's always moving his feet. Scouts have liked him for a long time but he went undrafted last season due to questions about his offensive upside but he has shown good overall improvement in this area of the game. While his upside may seem modest, his intangibles are very high. Coaches and his teammates love him."
Bill Placzek (draftsite.com): "Tough under-6-footer who plays a hard-nosed game for 60 minutes. He is an energy player who has some skill, good feet, and lots of sandpaper."
Patrick King (Sportsnet): "Drakkar captain Felix Girard is a consummate pro and the undisputed leader of his team. His coach raves about him and how Girard embodies everything he wants his team to represent. 'He's the image of our hockey club.'"
Kevin Forbes (Hockey's Future): "He's a bit of a smaller guy, but quite simply he outworks everyone. Johnny Hustle on the ice, leads by example and does anything and everything to win."
—
PHOTO CREDIT: Jeremy K. Gover // section303.com