Why Predators fans shouldn't be reaching for the panic button…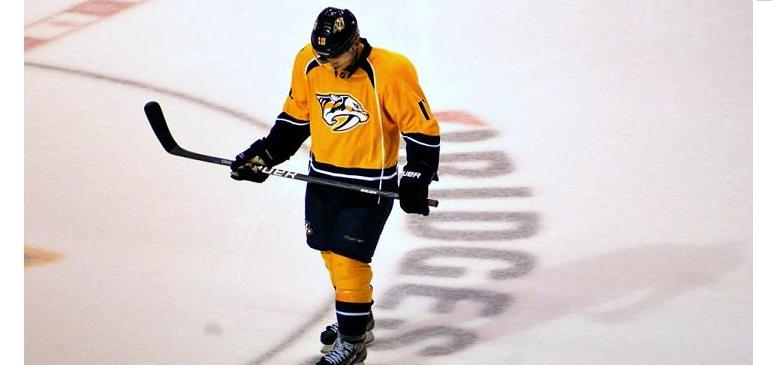 The Nashville Predators got the 2011-12 season off to a rockin' start. In front of 100+ traveling Predators fans in Columbus and St. Louis, they charged to the front of the Central Division pack. It was hardly perfect hockey but hey, who cares? The Preds were 2-0-0 and were winning games against inferior opponents. Spirits were high in Smashville as the home opener was in a few days and another supposed-inferior opponent was on the docket.
Instead of improving to 3-0-0, Nashville thought they could use their home ice to coast through the Phoenix Coyotes. But they couldn't, losing 5-2.
Things would almost certainly get better on Saturday as the Martin Brodeur-less New Jersey Devils were coming to town. But it was more of the same as the Predators blew a 2-0 first period lead and ended up losing in the shootout.
Surely the two straight losses, a poor effort during the home opener and the relinquished two goal lead would be a wake up call, right? Instead, Nashville followed those up with their worst performance of the young season, mustering just 12 shots on goal in a 3-1 loss to the Edmonton Oilers.
While we wait to see what the Predators will do against the defending Western Conference Champion Vancouver Canucks tomorrow night, there are two key things that should keep Preds fans a little more even keel. The first of which is understanding that there's been a lack of offense. Yes, it's hard to generate scoring chances when nobody's on the same page and you spend 55 minutes of a 60 minute game in your own zone but go with me on this…
Last year the Predators were a miserable 3-23-9 when they scored less than three goals. Conversely, they were a dominant 41-4-2 when scoring three goals or more. Want to take a wild guess as to how many goals Nashville scored in their three losses this season?
Now guess how many goals they scored in their two wins.
The second thing that should keep Preds fans warm at night is that they've been through this before and made it out okay. In 2009-10, the Predators started the campaign with two wins and then six straight losses (0-5-1). In 2007-08, they did the exact same thing (0-6-0). Even last year they roared out of the gate, going 5-0-3 in their opening eight contests (three of which were without all-world goaltender Pekka Rinne, by the way) but the team came back down to reality when they lost their next five.
The bottom line? This slow start shouldn't surprise anybody. This team has a long history of losing games they should win early in the year but then, in February and March, winning games they have no business being in. Take March 20, 2011 for example. The Preds had played a game in their own building less than 20 hours before the puck dropped on their contest in Buffalo, New York. After two periods, they were exhausted, losing 3-1 and being outshot 28-16. Yet, in the final 2:30 of regulation, Blake Geoffrion tallied two goals to tie it. Running on fumes, Nashville found just enough energy to win the game in overtime. Without that win, the Predators play top seeded Vancouver — not the Anaheim Ducks — in the opening round of the postseason. That's right, another first round playoff exit.
It's important to remember that, while the three-game losing streak is maddening, the NHL season is a marathon, not a sprint. It's also important to remember that they've only played five games. They will drop the puck 77 more times before it's all said and done.
In short, dropping back-to-back-to-back games in October, with the league's youngest team and two of its offensive stars on the shelf, doesn't mean they're going to miss the postseason. Does that make the pathetic effort acceptable? Absolutely not. What it does do though is reinforce the logic that there's no reason to hit the panic button. In the seasons referenced above (2007-08, 2009-10 and 2010-11) Nashville ended up making the playoffs all three times despite the frustrating starts.
So, if the Predators lose tomorrow, before you take to Twitter and call for General Manager David Poile to make a big trade or propose that Head Coach Barry Trotz should be fired, try to remember that history shows that this team will be just fine.
Come April.
—
PHOTO CREDIT: Sarah Fuqua // special to section303.com (used with permission)