Announcing the 2011 Opening Weekend 303 Road Trip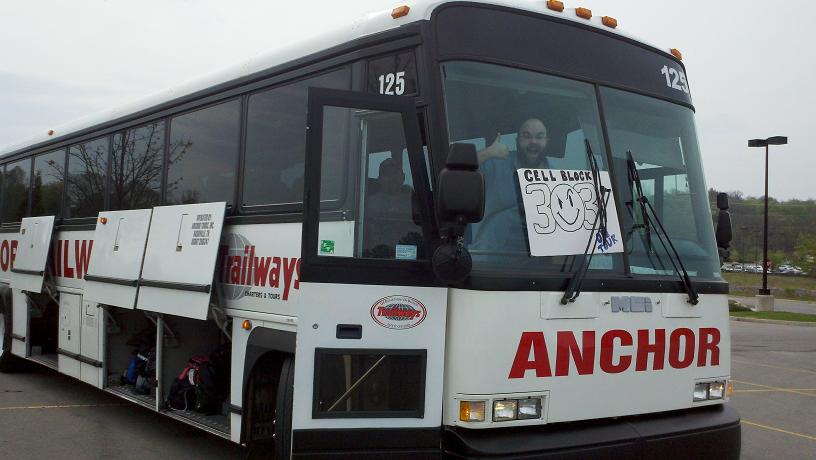 Please note: This trip is no longer for sale. The PayPal link is only left up so that those on-board may make their final payments.
In December, we invaded Atlanta with 70 Predator fans. In April, we took St. Louis with 65 citizens of Smashville. In October, we are setting our sights on the entire Midwest.On October 7th, the Nashville Predators open their season against the Columbus Blue Jackets in the Nationwide Arena. The following night, they travel to St. Louis to play the Blues….and you can be there for both!It's Cellblock Road Trip III: The Megatrip – 1,200 miles. Two opening nights. One hell of a good time.If you've been with us before, you might think you know what to expect…but think again…as this is potentially our only road trip of the year, we're setting the bar extremely high on this one.Join us and you will get:
1,200 miles of travel from Nashville to Columbus to St. Louis and back to Nashville.
Prime seating to both Friday night's game in Columbus and Saturday night's game in St. Louis
A discounted group rate to hotels within walking distance of the arenas on both Friday and Saturday.
A 303 Road Trip Souvenir.
So much more!
This trip is admittedly a bit more pricey than the past two that we have put together, but that's because this one includes a second night, twice as many miles, two premium priced games and – here's the crucial part – an exponentially increased amount of fun. We've priced the trip at a very fitting price point of $303.00 per person. However, we've also decided to give everyone the option of paying in installments. See below for details. Your spot on the bus is not reserved until you at least put down your deposit.
We've tried to make this easier for everyone this go-round and have put a button at the bottom of the page where you can submit your payment.
The $303 price includes one (1) seat on the bus, one (1) ticket in Section 202 of Nationwide Arena for the October 7th Nashville Predators at Columbus Blue Jackets game and one (1) ticket in a TBA section of Scottrade Center for the October 8th Nashville Predators at St. Louis Blues game. Please note that all road trippers will be responsible for reserving and paying for their own hotel rooms. We have reserved blocks of 30 rooms with two double beds at a hotel in St. Louis and at a hotel in Columbus – we will e-mail the group reservation information upon payment.
If paying in installments (in order to guarantee a spot on the trip):
First payment of $203.00 should be paid immediately.
Final payment of $100.00 is due by September 17.
Important Notices:
While deposits and payments are transferrable, they are non-refundable.
This trip is a charter. Thus, this trip is being put together as a package and will not be sold "a la carte". If you wish to attend only one game or will not be traveling via the 303 bus, you will need to acquire your tickets and hotel rooms on your own.
Make sure you put your contact e-mail with your payment – this way you will receive all important communications that we will be sending you.
Note: If you are unable to use the the below link, you may submit your payment directly through PayPal to [email protected].