Can Preds stay alive? Here's what needs to happen…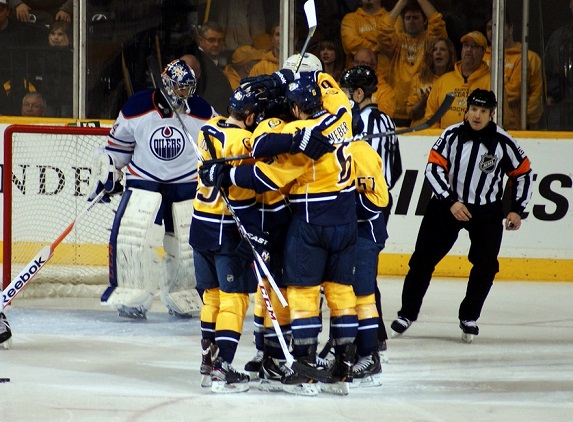 Anybody else hear The Bee Gees playing in the background? No? Well, it's pretty faint but it is there.
The Nashville Predators can stay alive in the Western Conference wild card race with a win against the Stars tonight in Dallas. According to Sports Club Stats, even if they win out, Nashville has just a 9% chance of making the playoffs.
Dallas currently holds down the final playoff spot in the West with 87 points and the Phoenix Coyotes — Nashville's opponent on Thursday — trail them by just one. The odds are overwhelmingly in those two teams' favor but the Preds, six points back, are hoping to create a Music City Miracle of their own.
Nashville was just four points away from that last spot coming out of the Olympic break but dropped four of their first five and slipped all the way to 12th in the conference. Since then, however, they're 9-4-1 and making an all-too-late push. In order to make their eighth playoffs in 10 years, they'll essentially need an exact scenario to unfold.
First, the Preds must win all four of their remaining games. Secondly, Dallas and Phoenix must lose out — in regulation, mind you — except the final game of the regular season in which the Coyotes would have to beat the Stars (again, in regulation). If all that happened, the final standings would read as follows:
8. Nashville – 89
9. Phoenix – 88
10. Dallas – 87
It should be noted that there actually is a scenario where the Predators could lose one of their final two games (read: not against the Stars or Coyotes) by way of overtime or the shootout and still get in. For that to happen, Phoenix would have to beat the Stars in their last game as well as get no more than a single point otherwise, Dallas would have to lose out and Nashville would have to go 3-0-1 in their last four. In that case, the Preds would tie the Coyotes with 88 points but get in by way of tie breakers (the ROW column).
Sports Club Stats has that scenario at just 0.7% so we're not going to spend any more time on it.
Of course, any chance of the postseason rests on tonight's tilt in Big D. If the Predators do anything short of win tonight, all those what if's and all those creative scenarios are gone.
Nashville is playing some of it's best hockey right now. Even when they lost those three straight to the Metropolitan-leading Pittsburgh Penguins, Central-leading St. Louis Blues and (probably) playoff-bound Columbus Blue Jackets between March 4-8, they played really well but had everything from goal posts to officials get in the way. Lately, however, everything's been going right. They upset the two Pacific Division powerhouses this past weekend, the Anaheim Ducks and San Jose Sharks, and, in their last eight games, they've scored 32 goals (a 4.0 goals/game average), allowed just 22 (a 2.75 g/gm average) and are 6-1-1. If they can somehow get into the dance, they'll be firing on all cylinders.
But, as the cliché goes, they have to take it one game at a time. First up? Dallas, who they have to beat in order to keep that small shred of hope alive.
After all, they're trying to adopt a new postgame locker room jam.
The Bee Gees.
---
PHOTO CREDIT: Sarah Fuqua (used with permission)