Shea Weber: "Something's got to change"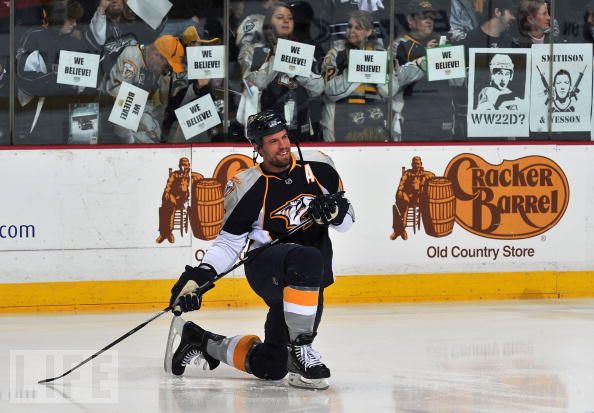 After the Nashville Predators were officially eliminated from the playoff picture last night, captain Shea Weber — usually a man of very few words — vented to Josh Cooper of The Tennessean.
"Nobody likes losing," Weber said. "It's frustrating. I don't know what to say. It sucks. I hate it. Everyone in here hates it and it's not a good feeling. Something's got to change. We have to get better and we have to find a way to get into the postseason."
Weber, 28, is in just his second year of that 14-year contract extension he signed (by way of Philadelphia's offer sheet) in the summer of 2013. And, having already shelled out close to $42 million thanks to his salary and annual bonuses, Nashville has no interest in trading him so he's here for the long haul.
No wonder he's frustrated.
Coming into the night, the Predators were 6-1-1 in their previous eight games. Even with that impressive run, they needed to win out in order to have any chance of making their eighth playoffs in 10 seasons. So, while the odds weren't in their favor, for a professional like Weber, it's still unacceptable.
Nashville will miss the playoffs for the second straight year for the first time since way back in 2001-02 and 2002-03. As a result, many Preds fans have been calling for heads to roll for a while now. Weber's comments, however unintentional, will certainly add gasoline to that fire.
"Where we are in the standings is not acceptable to anybody," Poile told us in an exclusive interview back in January. At the time, his hockey club was a single game over .500 with a record of 24-23-8. Since then, they're 11-9-4 which is only slightly better at two games over .500.
The trading of original Predator David Legwand was one change and, quite frankly, it was a change that needed to happen. His contract was up at the end of the summer and, since there was a market for him, Poile needed to get something. That "something" was Calle Jarnkrok from the Detroit Red Wings. Since acquired, the Gavle, Sweden native had seven points in five games for the Milwaukee Admirals before making his NHL debut on March 21 and promptly rattling off a five-game scoring streak.
Trading a member of "the old guard" like Legwand speaks to changing not just the team but the culture. For example, one of the best things the Columbus Blue Jackets ever did was trade superstar Rick Nash. With him, they made the playoffs just one time and got swept. Sure they miss his production but his departure signaled a culture change within the organization. As a result, the Jackets are 65-48-14 since he left Ohio, barely missed the post season last year (on final day of the season) and look poised to make it this year.
Parting ways with Legwand was one way. Another way could be a coaching change. You can argue with Head Coach Barry Trotz's system all you want but you can't argue with his stats. He's the only coach the Predators franchise has ever had in their 16-year (15-season) history, he's 13th all-time on the NHL's coaching list (1,193 games), he's 13th on the all-time wins list (554) and he led Nashville to the playoffs seven times while at the helm. In short, he took the Preds all the way from expansion club status to (at times) a Stanley Cup contender, something rarely achieved in pro sports.
You could even make an argument that this season was actually his best coaching effort. After seeing two-time Vezina Trophy finalist Pekka Rinne put up on the shelf in October, Trotz got newcomer Carter Hutton and rookie Marek Mazanec to play like veterans and keep the Preds in it. Mazanec was even named the league's Rookie of the Month in November and then, after taking over the reigns himself, Hutton was named the NHL's Third Star for the week ending on December 15.
If you had told any Predators fan in September that the team would be without Rinne for four and a half months and still be around .500 with a chance to make the playoffs when he returned, every one of them would've taken it.
And then there's the offense. It's no secret that Nashville's Achilles heel has always been goal scoring. And, while there's still not one go-to guy for offense, the Preds roster does feature four 20-goal scorers. That hasn't happened in Music City since 2007-08 and, considering there are only six teams in the league with more than four, that's pretty actually impressive.
But, results are what count. And the results right now are no playoffs in two straight years following an ugly lockout that erased half the NHL season. In a non-traditional market like Nashville, that's unacceptable. So, while Weber's comments assumably weren't pointed at Trotz specifically, he's correct in the sense that "something's got to change" in order for the Predators to be successful again. A bonafide goal scorer via free agency or trade would be a great place to start but, considering those guys don't just grow on trees, Poile and the brass may need to think outside the box.
Or, unfortunately, behind the bench.