Cigarran: All-Star Game could come to Nashville "within the next three years"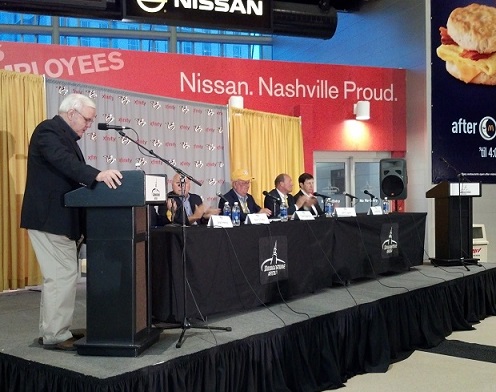 During the audience Q&A session at Wednesday's Skate of the Union event, Nashville Predators Chairman Tom Cigarran was asked when the city would finally get an NHL All-Star Game.
"We've been led to believe that we could possibly have one in the next three years," he told the crowd. "I can't get more specific than that."
Interesting.
After the event, we caught up with Cigarran and asked him to expand on his comments.
"We've been in discussion with the league about getting an All-Star Game and we're getting great support from our partner, Bridgestone," he told us. "The league can't commit because the decisions haven't been made but we've been given strong indications that we'll be getting one within the next three years."
Since 1991, the league has expanded by nine teams. Seven of them have hosted (or have been scheduled to host) the annual event. Only Nashville and Anaheim have been excluded. The Ducks, however, are in a unique situation as the Honda Center is just 30 miles down the road from the Staples Center in Los Angeles. Due to the Kings hosting in 2002, Nashville and Columbus (who was originally scheduled to host the 2013 game that the lockout negated) are the only markets to have not hosted an NHL All-Star Game.
"We don't feel slighted," Cigarran said about the oft-struggling Florida teams and the now-defunct Atlanta team getting the game before the Predators. "It's just the way things go sometimes. We think the league thinks of Nashville as one of its very best expansion franchises. They like the way we've done things and they're very supportive."
The final piece to the puzzle seems to be the opening of the new Music City Center. The $635 million facility had it's grand opening on May 19 of this year with it's first major event, the Music City Sports Festival, coming just 11 days later. Each city selected to host the annual festivities holds the game itself, the Skills Competition the night before and an All-Star Weekend in which vendors and exhibitors pack a convention center space for three or four days. It's believed that the league was waiting on the completion of the Music City Center before awarding Nashville the event because it would provide such space.
"We didn't wait until it was finished," Cigarran said about when conversations started. "We've been talking about this for a while and we think (now) it's going to come to fruition."
The All-Star Game won't be held in 2014 due to the NHL's participation in the Winter Olympics and the league will probably make good on Columbus' failed bid in 2015. That makes 2016 the next available season and, low and behold, that lines up with Cigarran's time table.