College hockey set to take over Bridgestone Arena…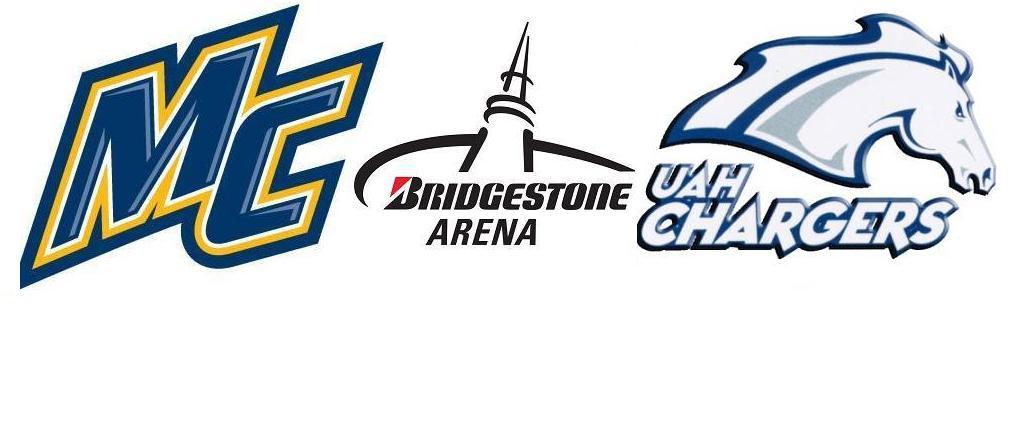 The Frozen Four is one of the most incredible tournaments in college sports.
(You know, until they get that whole BCS thing worked out.)
Music City USA, the Nashville Predators and Bridgestone Arena would love to host that tournament one day and this weekend is their first audition. By purchasing tickets to one (or both) of the games against the University of Alabama-Huntsville Chargers and the 17th-ranked Merrimack College Warriors you are doing your part to help bring a major sporting event to Nashville.
Other than financially supporting the effort, there are plenty of other reasons to attend as well. It's the first ever college hockey game in the state of Tennessee, you'll be supporting the closest geographical Division I collegiate hockey program to Nashville, Brentwood-natives Brice and Sebastian Geoffrion (the younger brothers of Preds prospect Blake Geoffrion) will both be in action and, last but not least, there will be half-price beer.
That, alone, is worth the price of a $10 ticket, really.
If you think that the Frozen Four could never come to a non-traditional hockey city like Nashville, think again. In 1999 the Anaheim Ducks hosted the tournament at Honda Center (called Arrowhead Pond of Anaheim then) and the Tampa Bay Lightning will spend early April 2012 on the road so they can make way for the tourny at St. Pete Times Forum.
The area's economy could always use the infusion of visitors that a huge sporting event like this could bring, it's a great way to show off our beautiful city to a national audience courtesy of ESPN, it's a perfect way to grow the sport and, no offense to Tampa, but Nashville certainly has more to offer visitors than the area surrounding St. Pete Times Forum. So why not Bridgestone Arena next?
As far as the game goes, Friday's contest will be the first time since 1994 these two teams have shared the same sheet of ice. Merrimack is 8-3-1 all-time versus the Chargers. Alabama-Huntsville will try to pull the upset and, if they do, would put the first (and only) blemish on the Warriors' 2010-11 non-conference schedule.
The Friday night tilt starts at 7:05pm while the Saturday afternoon pre-Preds contest starts at 1:05pm. Tickets are as low as $10 each and the most expensive being an affordable $30. So do your city, your team and your sport a favor and come out to the games!
See you there!
—
NOTE: You can follow both teams on Twitter by following @UAHChargers and @MC_Athletics.