UAH no match for 15th ranked Merrimack…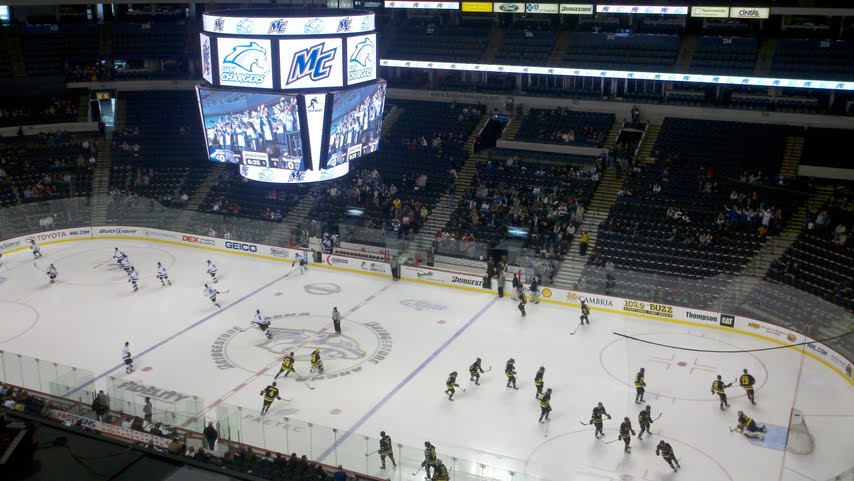 Unlike last night, the University of Alabama-Huntsville couldn't make it competitive.
The 15th ranked Merrimack Warriors came into Bridgestone Arena on the second day of this two-game series against the Chargers and flexed their ranking. The Warriors fired 47 shots at the Huntsville goaltenders and walked away with a 7-0 victory.
Rhett Bly put the Warriors on the board first when he capitalized off of a Huntsville giveaway in their own zone.
Just moments later Brentwood, Tennessee-native Brice Geoffrion stapled a Merrimack player into the boards from behind and got assessed a five minute major for boarding and a game misconduct, putting an end to his homecoming weekend. On the ensuing power play, junior Ryan Flanigan bagged his fifth of the season to put the Warriors up 2-0.
Jesse Todd tallied on the next Merrimack power play to give the visitors a 3-0 lead headed into the first intermission.
Really, from that point on it was all formality. Huntsville never found the back of the net – even with a long 5-on-3 power play in the second period – and Merrimack just stayed the course.
All in all, though, it was a successful audition for the Nashville Predators, Bridgestone Arena and college hockey. Yes, there wasn't an overly-impressive crowd in attendance, but the fact that there was a crowd at all is something to feel good about. Additionally, if this event can be an annual thing, more and more Predators fans will plan for it. Maybe the Preds could even include a couple of tickets in every season ticket package.
Whatever the case, the atmosphere was a great one. The UAH marching band was outstanding and really helped get the crowd involved when, quite frankly, there was no reason to cheer. Before the game even, when the band was getting settled into section 101, Chicago Blackhawks defenseman Nick Boynton and a member of the coaching staff shouted for them to play their fight song. The band was happy to oblige and got a strong applause from the Chicago players still on the ice for their morning skate.
All in all, it was a great experience that hopefully will grow in publicity in years to come. It is rumored that the Nashville Predators and Bridgestone Arena would like to bring the 2015 Frozen Four to Music City. This weekend was the first step.
And a successful first step it was.