Laviolette confirms Neal, Ribeiro will get a chance to reunite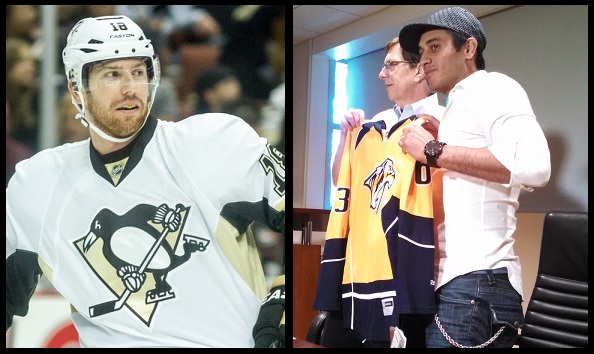 Josh Cooper has thrown out some possible line combinations. We countered with a completely different take. And Brandon Felder of The Predatorial has gone so far as to not predict anything.
The morale of the story? Nobody knows what to expect.
There are a lot of question marks surrounding the Nashville Predators this upcoming season. The Barry Trotz-era is over and that raises a lot of curiosities. Which players will excel under Peter Laviolette? Which players will falter? Who skates together? Will they be together longer than one shift?
Just a couple of weeks from the start of training camp, one of the more pressing questions is what the line combinations will look like.
Recently acquired sniper James Neal is one of few forwards who seem destined for a specific line. In his case, the top one. But who will be his center? The easy choice, Mike Fisher, is unavailable until probably Thanksgiving. Some have suggested Calle Jarnkrok but is the 22-year old ready for the opponent's top defense pairing, let alone top line minutes at the NHL level?
Which brings us to free agent signee Mike Ribeiro.
Ribeiro and Neal actually have a history. In their two and half seasons together in Dallas, Neal notched 72 goals and Ribeiro amassed 180 points. We spoke with Laviolette yesterday and he confirmed that, at least during training camp, he envisions the two playing together.
"They had some chemistry," he said. "We'll at least look at that in training camp and see if that's a duo that can get paired together. Then we'll try to find somebody to slide in with them on the left side."
Neal has a history of scoring. Ribeiro has a history of playmaking. The two could give Nashville a one-two punch this city hasn't seen since Peter Forsberg and Paul Kariya had their cup of coffee together in March and April of 2007.
The wild card, however, is Ribeiro.
"I see Mike as one of the top guys we're counting on offensively," Laviolette said. "He's had years in the past that have put him as an elite forward in the National Hockey League with 80-point seasons. 70 points or 80 points, that's a terrific year if we can get him going down that road and get him back on track."
Last season was a tumultuous one for Ribeiro. He managed just 47 points, his lowest total in over a decade. But, more than a lack of production, there were attitude and off-ice issues that resulted in his being bought out by the Phoenix Coyotes.
"It didn't go the way I wanted it to go in Phoenix," Ribeiro admitted back on July 15. "I was separated during the year. I didn't really see my children. That made me not focus on my job. I just wanted the year to be over so I could actually go work on [my family] and on being a healthy person. I think I've done that. My head's really clear and I have my family with me."
So while it's not set in stone that Neal will flank Ribeiro on opening night of the 2014-15 season, the new Predators head coach likes their history together and thinks it's a good place to start.
"I'm excited about training camp because there's a lot of different combinations and possibilities out there," Laviolette said. "But, certainly, to get Mike back on track in a 5-on-5 role and a power play role is going to be really beneficial for our team."