Simon Moser speaks out about new deal, his escape clause and the Olympics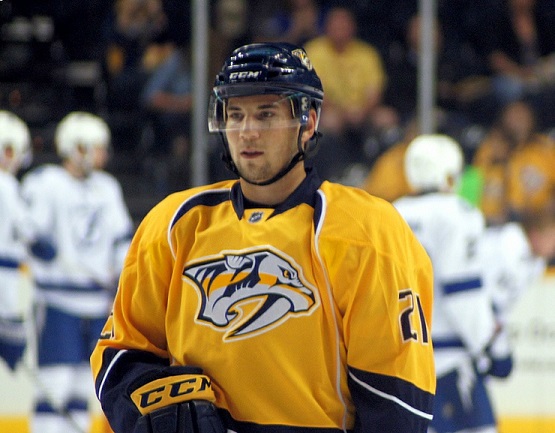 On Sunday afternoon, the Nashville Predators signed forward Simon Moser to a one-year, two-way contract. On Monday, they made the news official and assigned him to their AHL affiliate, the Milwaukee Admirals.
Moser was in camp on a tryout agreement yet survived four rounds of cuts. Notable names sent down before Moser include Taylor Beck and Austin Watson, both of whom spent time with the big club last season.
"We have some guys injured so I think that's the reason I'm still here," Moser admitted on Sunday. "But I try everyday I'm here and try to give my best to help the team reach our goals."
The Bern, Switzerland, native was the captain of the SC Langnau Tigers last year in Switzerland's top league. He finished third on the team in scoring with 21 points in 35 games before playing for his country at the World Championships. That's where Predators Head Coach Barry Trotz noticed him.
"I know exactly what he's all about," Trotz said. "I saw him at the World Championships and watched him real close. Typically, the Swiss are always really good on the rush but have had trouble with the small-area game. But (he) is one of those guys who doesn't have any problem with the small-area game. That's his strength."
Moser's countryman, Roman Josi, agreed.
"He's playing with a lot of details and he's doing the little things right," Josi said. "He's a big body and goes to the front of the net. He was really good in the Swiss league and now he's showing it here. In those pre-season games, he showed how good he can be."
A strong training camp and pre-season all without any guarantee that he would play hockey on this side of the Atlantic this year, let alone in the Predators organization.
"I had no contract," Moser said. "I just came here and it was all new. But now I'm pretty confident. I scored two goals and that helps me a lot to get to my A-game."
Of course, having a fellow countryman in the same locker room can help quite a bit too.
"He makes it a lot easier," Moser said of Josi. "Not just with hockey but around town. He has shown me how things go here (in North America) and he's been a lot of help."
"We're from the same town too," Josi said. "We live about 10 minutes away from each other (in Bern) and we see each other a lot during the summer. It's awesome that we're both here now."
It appears as if Moser will have to wait for his NHL opportunity as the Predators assigned him to the Admirals on Monday but the fact that he came to Music City on a tryout basis and earned himself a contract is nothing to balk at.
"Growing up, for sure, it was my dream," Moser said of playing in the NHL. "Three or four years ago, I never thought it could happen. But, as I got older, I improved my game and I think my style works perfect here in this league and for this team."
The main sticking point in getting a deal done was the inclusion of an escape clause. According to SC Bern, the club he's under contract with back home, if Moser isn't at the NHL level before December 15, he can get out of his deal and return to Switzerland. He said that was a vital detail.
"In Switzerland, they like more of the players who play in the Swiss league than in the AHL for the national team," Moser explained. "When it comes to the Olympics, it's every four years but I also don't know when I'll get another chance to play in the NHL so it's nice to have (the option)."
You can understand why the Olympics are such a big deal for anyone but, for Swiss players, it may be even more so. There are only eight active Swiss players in the National Hockey League, all of whom are expected to suit up for their country in Sochi, Russia next February. If Moser could crack the Preds roster at some point this season, he would not only be the ninth but he'd be just the third Swiss forward.
"The more Swiss players we can get over here the better," Josi said proudly. "We had a great World Championships and we showed that the Swiss can be really good and I think there's more and more coming to the NHL who want to try it."
Josi and Moser won silver together at the World Championships this past May, the first medal for Switzerland since 1953.
Nashville fans hope that, one day, they'll win something else together.
—
PHOTO CREDIT: Sarah Fuqua (used with permission)