Leipsic good enough for AHL, destined for Junior thanks to age rule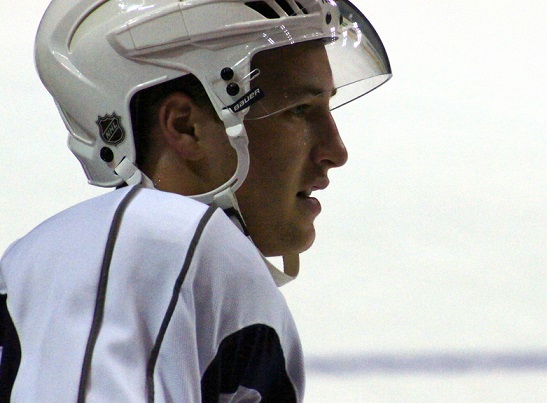 Before the season starts, the Nashville Predators will probably lose one of their top prospects to the Western Hockey League's Portland Winterhawks.
(Take a deep breath, Preds fans. It's not Seth Jones.)
Brendan Leipsic was selected by Nashville in the third round of the 2012 NHL Draft (89th overall) and instantly became a weapon in the organization's arsenal. After training camp, the forward went back to Portland and led all of Canadian Major Junior in scoring with 120 points in just 68 games. As a result, he won the Bobby Clarke Trophy and was named a Second Team All-Star.
But the Winnipeg, Manitoba, native's accomplishments weren't just of the individual variety. He helped lead his team to their third consecutive WHL Final, the franchise's first Ed Chynoweth Cup in 15 years and an appearance in the 2013 Memorial Cup Final.
"Our guys just love him," Predators Assistant General Manager Paul Fenton told us earlier this year. "He's not a very big kid but he plays with a lion's heart, has incredible hockey sense and a hockey mind and, obviously, has the talent to back it up."
Leipsic is ready for the pro level but the Milwaukee Admirals are not an option. If he doesn't make the Predators out of camp, he'll be forced to go back to Portland. Any other year he might have a fighting chance but with the overflow of NHL-caliber forwards in Music City, logic suggests (demands?) that he won't make the cut.
That's just one piece to the puzzle. The other piece is the NHL/CHL agreement. It states that, for a player to be eligible for the American Hockey League, that player must "be 20 years of age by December 31st of the season or have completed four years of Junior eligibility." Leipsic is one season shy from the requirement and won't turn 20 until May 19, 2014.
"Having another year to develop is never a bad thing," Leipsic said. "I think I can improve in a lot of areas of my game. I proved that I could score in the Western Hockey League and I think I can score at the next level too but I want to be a better 200-foot player. To get to the AHL and the NHL you've got to be good on both sides of the ice."
Jones is in the same boat but has a lot less to worry about. Since being chosen with the fourth overall pick in this summer's draft, the big defenseman is slated to make Nashville's roster. If he isn't ready for prime time, however, this issue will effect him also. Surprisingly, he still thinks the rule is a good one.
"At the end of the day, I think it's the right thing to do to keep the league at the top level," Jones admitted. "Players may not like the rule but I think, for the CHL, it helps the league not be watered down. If all the 18- and 19-year olds left, the league wouldn't be as good."
The top prospect in Nashville's system knows a little something about what Leipsic brings to the table. After all, the two were teammates in Portland last season.
"He's a great player and he's going to do well," Jones said. "He's not going to take this rule, go back this year and just blow it off. He's not like that. He'll go back and work just as hard as he always does."
One Predator that has experienced this conundrum before is Ryan Ellis. During his time with the Windsor Spitfires, the highly decorated defenseman won everything from World Junior medals to Memorial Cups to OHL and CHL awards. Despite the large trophy case, the rule that's biting Leipsic this summer bit him in the summer of 2010.
"I think the rule's there for a reason," Ellis said. "They want to keep the junior level competitive. And it makes the younger guys work harder (in training camp) knowing that it's one or the other."
In his "forced" OHL season, Ellis did what he was supposed to do: dominate the competition. He won the CHL Defenseman of the Year and CHL Player of the Year awards, won the Mickey Renaud Captain's Trophy, the Max Kaminsky Trophy, the Red Tilson Trophy and was named an All-Star and Best Defenseman at the World Juniors all while winning the silver medal with Team Canada. He probably wouldn't trade those memories for anything but, at the end of the day, he shouldn't even have been there.
"I think the biggest thing is to have something you want to achieve and then stay on top of that," Ellis said about his motivation method. "Maybe you are, sometimes, a little more advanced than other players but you've just got to keep your compete level high and your work ethic high as well."
The good news is that Leipsic's name is being mentioned in the same breath as Jones and Ellis, two of the most highly-touted junior players in recent memory. If he does go back to the WHL, he'll be considered a superstar. The bad news, of course, is that he'll be considered a superstar. There will be a lot of pressure to duplicate his uber-productive 2012-13 campaign.
"Obviously, I expect a lot of myself," Leipsic said. "I want to prove that last year wasn't just a fluke. I want to build off that but, if I don't put up big numbers but I'm playing a solid two-way game and our team is winning, that's all that matters to me."
Having been there before, Ellis offered Leipsic some advice.
"He's going to be a leader on his team and he's going to be one of the better players in the league, for sure. He's going to have some very high goals – definitely over a 100-point season – and some team goals as well. For him, he just needs to gain as much as experience as possible and have some fun."
With players like Taylor Beck and Austin Watson knocking on the door for a full-time job in Music City, Head Coach Dean Evason would love to be developing Leipsic in Milwaukee. Unfortunately, he'll have to wait until at least March in order to get the chance.
"It certainly would be nice to have a couple of guys like him," Evason said. "Guys that have gone to the Memorial Cup and accomplished a lot of their individual goals (who are ready) to take the next step. In his case, we've talked about it and it would be a nice option for us to have in Milwaukee."
A nice option indeed. Too bad it can't happen.
—
PHOTO CREDIT: Sarah Fuqua (used with permission)