LIVE FROM RALEIGH: The section303.com Fantasy Mock Draft…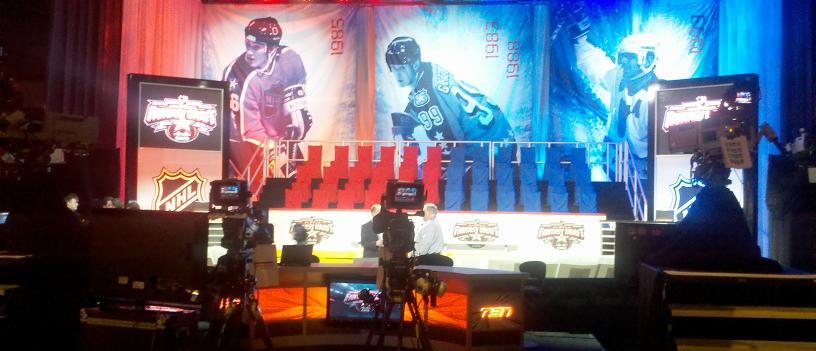 With less than two hours remaining before the 2011 NHL All-Star Fantasy Draft, Jeremy K. Gover of section303.com and Ryan Porth of RLDHockey.net decided to preview the event the only way they knew how.
With a mock draft.
Yes, they know it's cliche and every blogger and their mom is doing a mock draft but hey… how else do you preview a game where the teams aren't selected yet?
So, on with the show…
Team Staal (represented by RLDHockey.net)
Mike Green (A)
Ryan Kesler (A)
Team Lidstrom (represented by section303.com)
Patrick Kane (A)
Martin St. Louis (A)
1st pick
RLD: Steven Stamkos
303: Alexander Ovechkin
2nd pick
RLD: Daniel Sedin
303: Henrik Sedin
3rd pick
RLD: Duncan Keith
303: Rick Nash
4th pick
RLD: Corey Perry
303: Shea Weber
5th pick
RLD: Tim Thomas
303: Pekka Rinne (oh wait…) Jonas Hiller
6th pick
RLD: Henrik Lundqvist
303: Zdeno Chara
7th pick
RLD: Kris Letang
303: Patrick Sharp
8th pick
RLD: Anze Kopitar
303: Brad Richards
9th pick
RLD: Jeff Skinner
303: Cam Ward
10th pick
RLD: Marc-Andre Fleury
303: Carey Price
11th pick
RLD: Dan Boyle
303: Dustin Byfuglien
12th pick
RLD: Jonathan Toews
303: Phil Kessel
13th pick
RLD: Loui Eriksson
303: Danny Briere
14th pick
RLD: Keith Yandle
303: Brent Burns
15th pick
RLD: Marc Staal
303: Erik Karlsson
16th pick
RLD: Claude Giroux
303: Matt Duchene
17th pick
RLD: David Backes
303: Paul Stastny
18th pick
RLD: Martin Havlat
303: Patrik Elias
—
SPECIAL THANKS to the section303.com Road to Raleigh sponsor Communication Elements. If you're a small business in need of marketing or public relations, check them out.
—
PHOTO CREDIT: Jeremy K. Gover // section303.com