Three Minutes With: Devan Dubnyk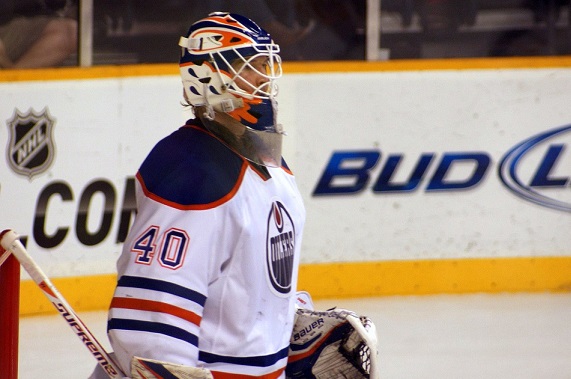 On Wednesday, the Nashville Predators acquired goaltender Devan Dubnyk from the Edmonton Oilers. On Thursday, he dressed in gold for the first time but watched from the bench as Carter Hutton turned in a spectacular performance in the 4-3 shootout win against Flyers in Philadelphia. On Saturday, in front of 17,113 inside Bridgestone Arena, he'll make his Predators debut when he starts against the Colorado Avalanche.
Earlier today, we sat down with the 2004 first round pick and asked him about the trade, the differences in systems and even his new mask.
***
section303.com: "You were on an Edmonton club that allowed a lot of shots on goal. They only had one season in the past five where they weren't in the league's bottom 10 in that category. Nashville, on the contrary, is known as a defense-first team. Is it exciting to be a part of this different of a system?"
Devan Dubnyk: "Yes absolutely. In a place where keeping the puck out of the net is probably the top priority obviously, as a goaltender, that's an exciting thing to hear. Part of keeping the puck out of the net is having great goaltending so I'm certainly looking forward to bringing that into this dressing room. That's certainly not taking anything away from 'Hutts.' He's done well this year and he played a great game from what I was watching in Philadelphia so we'll work together and get us some wins here."
303: "Conversely, you come from an Edmonton team that's loaded with talent up front. Jordan Eberle, Ryan Nugent-Hopkins, Taylor Hall, Sam Gagner, the list goes on. This team doesn't have a whole lot of that. Will you put more pressure on yourself to batten down the hatches even more?"
DD: "I don't think so. The way they work here and the way they work together in a 60 minute game night-in and night-out gives you a consistent effort. Yeah, it means some nights you might have to win games 1-0 but the opportunity is there to win games 1-0 if you're on your game and you're sharp. So it's different but it's not something you can think about. As a goalie, you want to go into every single game and really make sure that you're letting in as little as possible and giving the guys the best chance to win."
303: "I know Josh Cooper of The Tennessean already asked you about your new pads but he didn't ask you about your new mask. When will that be ready?"
DD: "It should be a week too. The guy is actually really good and he's quick. I've had a lot going on the last couple days so I haven't had a chance to bounce ideas off him just yet but he knows and he's ready to paint. I'll probably get going on that with him tomorrow and get it off in about a week."
303: "Any design ideas you want to share?"
DD: "I was thinking about it on the plane ride to Phili when I was sitting there crunched into a ball into my seat on that little plane there. I'm just excited. It's a cool opportunity to use the logo. With the sabretooth, there's a lot of options. With the Oilers it was a little tougher to be creative with. The colors were great and I loved the way my mask turned out but there's definitely some more creative options to be had with the sabretooth. So I usually let the painter throw a bunch of ideas at me and then I'll try to grab pieces of it and put it together."
303: "Thank you very much. Welcome to Nashville."
DD: "Thank you very much."
—
PHOTO CREDIT: Sarah Fuqua (used with permission)