Will highly-courted forward Kevin Hayes pick the Preds?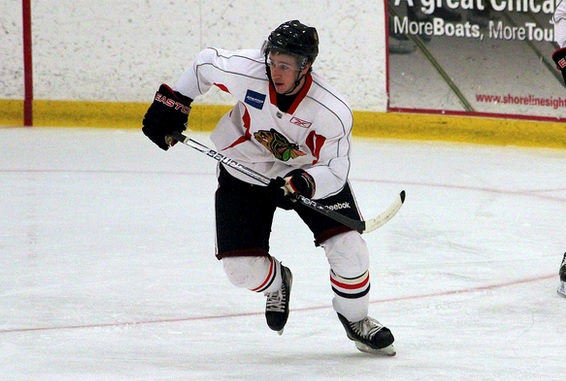 There was a report yesterday that Boston College alum Kevin Hayes was narrowing down his list of suitors. Mark Divver of The Providence Journal followed that up by saying the finalists will be contacted today. Boston sports talk show host Danny Picard then reported that the Nashville Predators are among the finalists.
Hayes was the second leading scorer in NCAA hockey last year (65 points in 40 games). The only player with more production? His Boston College linemate Johnny Gaudreau (80 in 40). Hayes was drafted by the Chicago Blackhawks in the first round of the 2010 NHL Draft but chose not to sign by the August 15, 2014 deadline, making him free to talk to other teams.
The Predators went through this courting effort with Western Michigan University defenseman Danny DeKeyser back in March of 2013. Then-coach Barry Trotz even missed a day of practice to help the cause. DeKeyser would eventually join the Detroit Red Wings and Nashville fans made sure he knew about their disappointment, booing him a few weeks later on April 14.
Joe Haggerty mentioned Nashville as a "top landing spot" for the highly coveted winger but there are plenty of other teams with ties to Hayes. His brother, Jimmy, is with the Florida Panthers. His BC linemates, Gaudreau and Bill Arnold, are both in the Calgary Flames organization. There's the Boston Bruins near Hayes' hometown of Dorchester, Massachusetts.
And then there's the Colorado Avalanche.
As Chris Peters of CBS Sports points out, the Avs were ranked dead last in ESPN's recent NHL Prospect Pipeline Rankings. Adding Hayes would bump them up a few notches and, more important to Hayes himself, he could compete for an NHL spot right away. That's something Nashville probably can't say. At least without some trades.
The Predators would love to add a young, 22-year old, dynamic forward like Hayes to their prospect crop. He would gel into the nucleus of 20-year old Filip Forsberg, 22-year old Calle Jarnkrok, 24-year old Craig Smith, 19-year old Seth Jones and 24-year old Roman Josi. Additionally, James Neal is just 26 and three-time Norris Trophy finalist Shea Weber is in his prime at 29. But, with 16 NHL-caliber forwards on the roster, space with the big club is limited.
Actually, it's non-existent.
To bring the 2014 Beanpot Tournament MVP in — and give him a legitimate look in training camp — Nashville would have to move some forwards out. So where would he fit? Hayes is not a fourth line player so Rich Clune, Paul Gaustad and Eric Nystrom stay put. The (presumed) top line of Neal, Mike Ribeiro and Smith aren't going anywhere so we can safely keep them together. That leaves the second and third lines which (again, presumably) contains some combination of Colin Wilson, Matt Cullen, Olli Jokinen, Derek Roy, Jarnkrok, Forsberg, Gabriel Bourque and Viktor Stalberg.
If Hayes' camp just wants an NHL opportunity "soon" than Nashville may have a shot at landing him. After all, Cullen and injured center Mike Fisher both become unrestricted free agents after this season. Same for recent signees Jokinen, Ribeiro and Roy.
There's room on the horizon. Just not right now.
—
PHOTO CREDIT: Mel Boysen (used with permission)