With final cuts looming, will Stalberg's injury pave the way for Beck?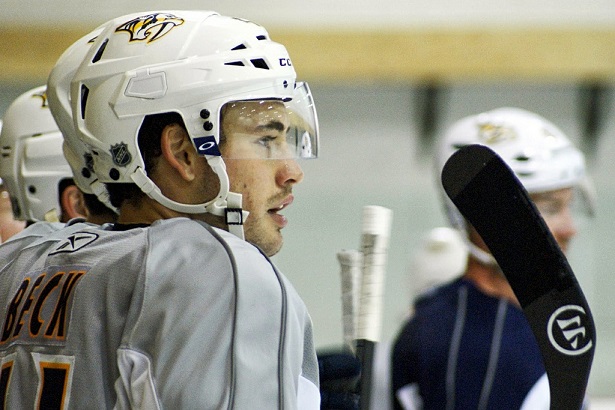 What's that saying, "one man's loss is another man's gain?" When it comes to Viktor Stalberg and Taylor Beck, that statement may prove absolutely true.
The Nashville Predators recalled Beck for the first time on March 19 of last season. Three games later, he had his first NHL goal and added an assist to boot. He then tallied four points over the next five games but, even when he wasn't finding the scoresheet, he was playing well. He never really looked out of place and always seemed to be doing the little things that coaches covet.
Beck, a third round pick in 2009, finished the season with seven points in 16 games and showed that he was ready for prime time. Headed into the summer, he looked to have an NHL roster spot waiting for him once camp opened.
"He's going to get a serious look and he deserves a serious look based on his play," Head Coach Barry Trotz told us on The 303:30. "He spent his time in Milwaukee, was productive in Milwaukee and then, when he came up with us, he was productive with us."
"He played terrific," Advisor of Hockey Operations Brent Peterson added. "He could be a possible victim of the numbers game but he's not going to be because he's going to come in (to training camp) and blow people away."
Fast forward a couple months, however, and Nashville signed four forwards on the opening day of free agency: a pair of top sixers in Stalberg and Matt Cullen as well as role players Matt Hendricks and Eric Nystrom. Those four put the Preds at 15 NHL-caliber forwards, or, put another way, "14 and Beck."
"I want to earn everything I get," Beck said. "I'm just going to stay positive. I know exactly what I have to do to be successful in every game and that's what I'm going to do. Whatever happens after that is out of my control."
Each team must have their regular season rosters set by Monday at 4:00 p.m. Central. Beck is the only one of the aforementioned 15 that wouldn't be exposed to waivers if sent down, making him the "easy" cut for Trotz and the coaching staff. A week ago, he seemed destined to start the season with the Admirals.
"Most times we carry an extra two forwards and an extra defenseman," Trotz explained. "You're allowed 23 people on your roster but, right now, we're in a situation where we probably have 24. There's one forward or defenseman who has to be eliminated from our group."
After those comments, Stalberg took an elbow to the shoulder on Tuesday. The former Chicago Blackhawk left the game early, did not return and is now on the shelf for 3-4 weeks. Hendricks, Nystrom, Rich Clune and Nick Spaling — the four guys thought to be fighting for playing time on a game-by-game basis — can't replace Stalberg because they're not top six forwards.
Beck, on the other hand, is.
"I'm an offensive guy," Beck said. "I'm going to stick with what I do best and that's creating offense. Whether it's taking the puck to the net being a power forward or making a nice pass, I've always been an offensive guy."
And offense is exactly what this team needs. The Predators scored just 111 goals last year, dead last in the NHL. Bringing in Stalberg was an effort to fix that. He scored 22 goals and 43 points in 2011-12 and even tallied 23 points in the lockout-shortened 2013 campaign despite being buried on a Chicago team that boasted names like Patrick Kane, Jonathan Toews, Patrick Sharp, Marian Hossa and 2013 Rookie of the Year candidate Brandon Saad. It's thought that, if he could get top-line minutes, he could produce top-line numbers.
Is Beck ready for top line minutes? Probably not but he does seem ready to contribute on a regular basis with the big club. After Nashville's free agent frenzy on July 5, he looked to be the odd man out due to his AHL-eligibility. But Stalberg's injury may have paved the way for him to make the opening night roster, after all.
I guess one man's loss truly is another man's gain.
***
Come watch the Predators' season opener with us at Brewhouse South in Franklin. You could win some great prizes like a Sport Seasons gift card, Rob Vollman's new book Hockey Abstract or even a Seth Jones jersey! GET ALL THE DETAILS HERE.
***
PHOTO CREDIT: Sarah Fuqua (used with permission)