Tonight officially puts last season in the past for Predators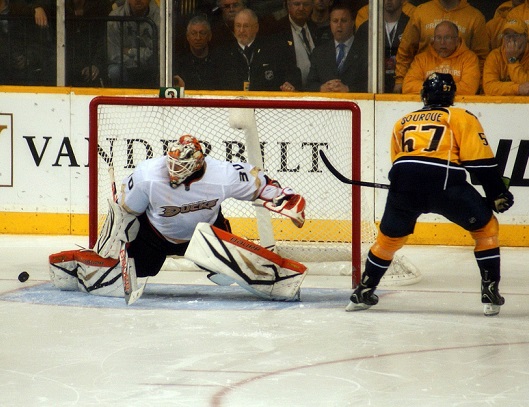 It cannot be denied. Even the biggest Nashville Predators homer has to accept the fact that last year was an absolute nightmare.
A team that had made the playoffs seven of the previous eight seasons (and, the one time they didn't, were in it until the final days) expects nothing less than to be competitive. Instead, the Predators were everything but. They tied for the fewest goals scored in the league (109), had the fifth-worst goal differential (-28), had the second-worst penalty kill (75.5%) and lost a whopping 130 man-games to injury. If that wasn't enough — and it's plenty — they showed very little fight as well. In a lockout-shortened 48 game schedule, Nashville only won a single game when trailing after two periods. For a team known for its resilience and blue-collar work ethic, it was clear at every turn that something wasn't right.
"Last season was a weird year," defenseman Kevin Klein said. "A lot of key guys went down coming down the stretch. And it seemed like we didn't have any practices, it was just game after game. Then, when we could, we'd take a day off."
"A lot of bad things happened to us last year," said team captain and two-time Norris Trophy runner-up Shea Weber. "But that's in the past now. After the season, you dwell on it for a couple weeks and think about what you need to improve on and what you need to work on but, after that, you just forget about it. We're ready for a fresh start."
While opening night typically signals a new chapter, they may have written the preface as early as April 30. For as bad as last year was, the summer's actually been pretty exciting. Since the final horn of the final game, the Predators locked up Patric Hornqvist for five more years, got Roman Josi to follow suit with a seven-year extension of his own, saw underachieving forward Craig Smith tear up the World Championships, watched Josi win MVP at said Worlds, saw prospect Brendan Leipsic finish as the leading scorer in all of major junior, unveiled a new local ice facility, brought US Hockey Hall of Famer Phil Housley onto the coaching staff, took top-ranked player Seth Jones with their highest draft pick since 1998 and actually got into the free agent frenzy within hours of it opening as opposed to playing the waiting game, per usual.
Not bad, all things considered.
"I think we moved on during the summer," Josi said. "When we came to training camp, we were all ready for a new season and we were all excited."
His coach agreed.
"I think that's already done,"  Barry Trotz said. "We don't even talk about last year at all. We haven't talked about it for a long time. I think, for us, we've looked at it more as 'let's build this year' than 'look at last year.' It's about building this group. That's how we've approached it and why we did all the things that we did."
Tonight's opener against the Blues up in St. Louis marks the beginning of the 2013-14 season but it's also a way to finally put the debacle that was last year in the rear view mirror. Will Pekka Rinne rebound from his off-season surgery? Will free agents Matt Cullen and Viktor Stalberg provide the offense they were brought in for? Will Jones be in the Calder Trophy conversation despite being a defenseman? And, of course, will the Predators return to the post season? Those questions will start to be answered soon.
And soon starts tonight.
***
Come watch the Predators' season opener with us at Brewhouse South in Franklin. You could win some great prizes like a Sport Seasons gift card, Rob Vollman's new book Hockey Abstract or even a Seth Jones jersey! GET ALL THE DETAILS HERE.
***
PHOTO CREDIT: Sarah Fuqua (used with permission)